Spoiler alert: some of the book's main themes are discussed below. I don't think there's anything that would spoil the story.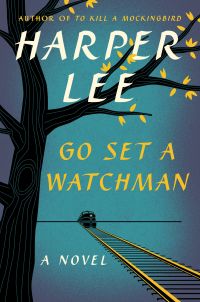 When I first read Harper Lee's To Kill a Mockingbird eight years ago, I was surprised by how much of it wasn't about race. It's a novel about judging people — including, but not limited to, judging people based on their race — and about growing up in general, and growing up in the 1930s Deep South in particular.
Of course, the most famous part of the book is the defence, by the protagonist's father Atticus Finch, of a black man who was unjustly accused of raping a white girl. It's part of what makes the book great and part of why I think it's one of the best books ever written. When it comes to heroism in literature, it is hard to outdo Atticus Finch.
Or at least it was, until first-draft-turned-second-novel Go Set a Watchman was published last month and it turned out that Atticus did hold some views that can only be described as plain racist.
If you find this shocking, and it seems many people did, you may actually want to read the book: this shock is one of its main themes.
I don't think the Atticus Finch in Go Set a Watchman is any different from the character in To Kill a Mockingbird though. It's just that twenty years later (this novel is set in the early 1950s) we see a different side of him.
To me, it seems clear that if he were again to be appointed to defend a black man (as he was that of Tom Robinson; perhaps crucially, he didn't choose to take on the defence) he would do so just as passionately and with as much reverence for the law and for justice as he had done twenty years previously. But now we know that he also did think blacks were inferior to whites and that the federal government shouldn't force the southern states to desegregate for that reason.
Atticus's views were wrong, but they were also very common in his time, even among intelligent people. One of the most famous quotes from To Kill a Mockingbird is that "you never really know a man until you stand in his shoes and walk around in them". Given that I never walked in the shoes of Atticus's contemporaries, I shouldn't really pretend that, had I lived in his time, my views would have been different.
That realisation makes me glad I live today and that the percentage of people who hold such views has significantly decreased (even if we all know too well it hasn't enough). That's progress. Just as it's progress that I now hold some views that future generations will find despicable. And I hope that people of that generation "hold ground for what [they think] is right — stand up to me first of all" as Atticus tells his daughter in the book's closing scene.
I still feel a bit uncomfortable about whether Harper Lee meant for this book to be published. I guess we'll never really know whether she did. But now that it did get published, I'm very glad I read it. And it made me admire her as a writer even more.